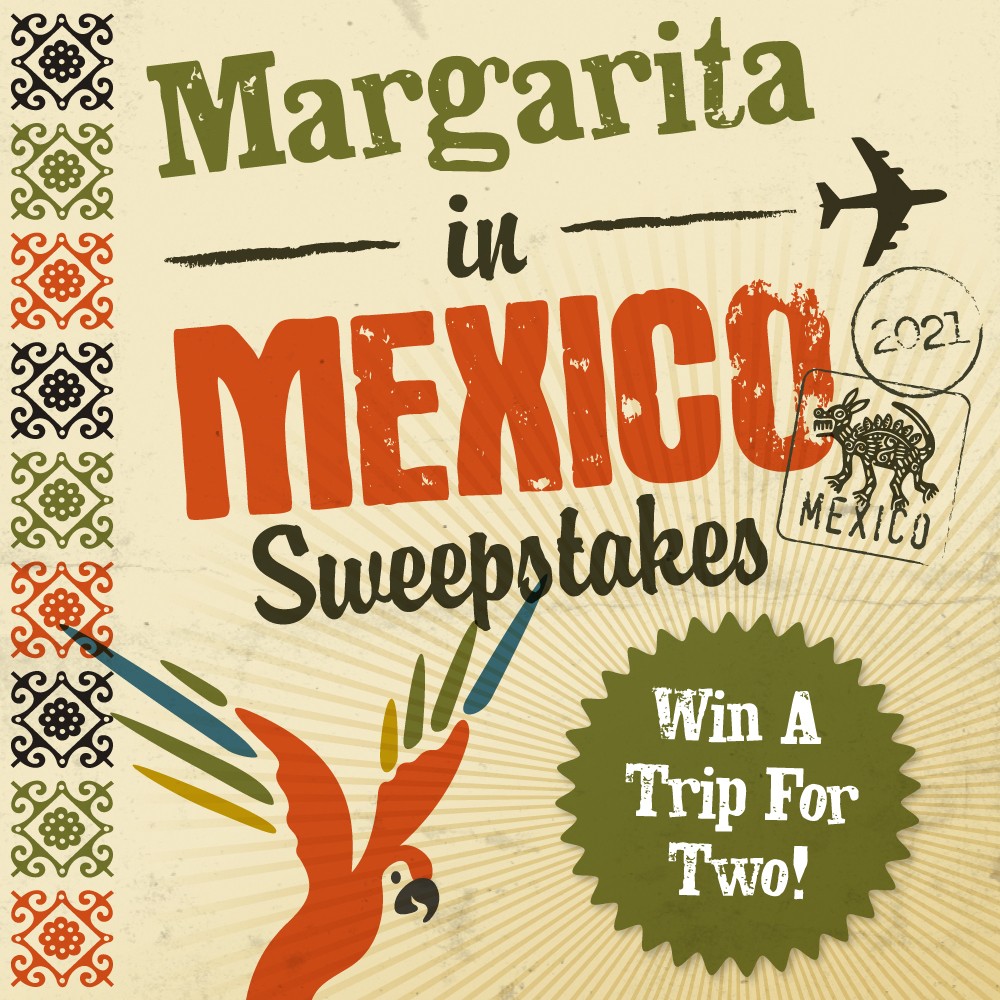 TRIP TO MEXICO GIVEAWAY!
ENTER FOR A CHANCE TO WIN!
All-Inclusive Trip to Mexico!
Enter from Thursday, May 6th, 2021 through Saturday, July 31st, 2021. Please know by entering this sweepstakes, you will also be joining our VIP eClub, our loyalty program where you receive special offers & discounts every month!
OFFICIAL RULES MUST BE 21 YEARS OF AGE OR OLDER TO PARTICIPATE. NO PURCHASE OR SMARTPHONE NECESSARY TO ENTER OR WIN. A PURCHASE OR SMARTPHONE ENTRY WILL NOT IMPROVE YOUR CHANCES OF WINNING.
Sponsor: 1800 Tequila 
Sweepstakes Entry Period: The Sweepstakes will begin on 12:00:01 a.m. Pacific Time ("PT") on May 6, 2021 and will end at 11:59:59 p.m. PT on July 31, 2021 ("Entry Period") To be eligible, all entries must be received by Sponsor by August 5, 2021. 
Eligibility: The TRIP TO MEXICO SWEEPSTAKES ("Sweepstakes") is open only to legal residents of the State of Arizona only, and consumer must be age 21 or older at the time of entry. Void where otherwise taxed, prohibited or restricted by law. Officers, directors and employees of Sponsor and affiliates, if applicable, its parents, subsidiaries, and affiliates; individuals or entities responsible for the development, printing, distribution and implementation of this Sweepstakes; suppliers, distributors and retailers of alcohol-beverage products; and individuals who are employees of or members of the immediate family or household, whether or not related, of any of the foregoing are not eligible to enter to win. Sweepstakes is subject to all applicable Federal, state and local laws and regulations. 
To Enter: Entrants may enter only once.
To Enter via a Text Message. Text MACAYO to 866-219-3220 and follow the directions to verify your age and state of residence. You will then be sent a text message informing you that you have been officially entered for a chance to win. Standard data fees may apply. See your wireless carrier for pricing plan details. Check your wireless phone capabilities for specific instructions. 
All eligible entries received during the Sweepstakes Entry Period, regardless of method of entry, that are otherwise fully compliant with these Official Rules shall be considered "Valid Entries" for purposes of this Sweepstakes. By entering you expressly agree to assume all risks of lost, late, incomplete, illegible, stolen, undelivered and/or misdirected entries.  Odds of winning depend on the total number of Valid Entries received during the Sweepstakes Entry Period, through both entry methods combined.  If you enter the Sweepstakes via a Text message you may be given the option to receive commercial e-mails from Macayo's Mexican Restaurants, however, eligibility to participate in the Sweepstakes is not dependent upon your consent to receive such e-mails and/or mobile text messages and updates and consenting to receive such e-mails and/or mobile text messages and updates will not impact your chances of winning. Standard messaging rates apply to mobile text messages and updates. Check with your mobile service provider for more information. 
SELECTION OF WINNER: On or around August 11, 2021 at approximately 5:00 p.m. Pacific Time, the Sponsor will randomly draw potential winner(s) from among all Valid Entries received.  The Sponsor and/or its independent judging organization will be the sole judge(s) of which entries are Valid Entries, and their decisions and the result of the drawing will be final in all respects.  Each potential winner will be notified on or about August 12, 2021 by email and/or telephone (in the sole discretion of Sponsor) using the contact information submitted by such potential winner(s) at the time of entry ("Prize Notification"). In the event that any potential Winner does not respond to any such Prize Notification within two (2) business days of the date of issuance, a disqualification will result and prize will be forfeited and, at Sponsor's sole discretion and time permitting, an alternate potential Winner may be randomly selected from among all remaining eligible entries. In order to receive a Prize, each potential winner must provide his or her social security number and/or other identification to Sponsor and will be required to sign an Affidavit of Eligibility and Release of Liability and, where unless prohibited by law, Publicity, within two (2) business days of date of issuance, or an alternate potential winner will be randomly selected from among all remaining Valid Entries. Sponsor reserves the right to conduct a background check of any criminal records of any potential winner. To the extent necessary and permitted by law, potential winner shall authorize this background check. Sponsor reserves the right, at its sole discretion, to disqualify any potential winner based on the background check. If any potential winner cannot be contacted or fails to submit identification required by Sponsor or to return the required documents within the specified time period, or if any Prize or any required documentation is returned as undeliverable, or in the event of noncompliance with these Sweepstakes rules and requirements, the Prize will be forfeited such potential winner(s) may be disqualified and, at Sponsor's sole discretion and time permitting, an alternate potential winner may be randomly selected from among all remaining Valid Entries.  Upon prize forfeiture, no compensation will be given.  Limit one (1) Prize per person, family or household. All Prizes will be awarded, provided they are properly claimed. Sponsor is not responsible for unsuccessful efforts to notify any potential winner.
SPONSOR'S DECISIONS AS TO THE ADMINISTRATION AND OPERATION OF THE SWEEPSTAKES AND THE SELECTION OF POTENTIAL WINNER ARE FINAL AND BINDING IN ALL MATTERS RELATED TO THE SWEEPSTAKES. AN ENTRANT IS NOT A WINNER OF ANY PRIZE UNLESS AND UNTIL ENTRANT'S ELIGIBILITY AND THE POTENTIAL WINNING ENTRY HAS BEEN VERIFIED AND ENTRANT HAS BEEN NOTIFIED THAT VERIFICATION IS COMPLETE. SPONSOR WILL NOT ACCEPT SCREEN SHOTS OR OTHER EVIDENCE OF WINNING IN LIEU OF ITS VALIDATION PROCESS. ANY ENTRY THAT OCCURS AFTER THE SYSTEM HAS FAILED FOR ANY REASON IS DEEMED DEFECTIVE AND IS VOID AND WILL NOT BE HONORED. 
GRAND PRIZE: Total Prizes to be awarded: One (1) Grand Prize of an All-Inclusive trip to Mexico for the winner and one (1) guest during September/October 2021. The trip includes airfare from an Arizona airport to destination, transportation to and from the airport to the resort and resort stay for three days for winner and one (1) guest.  Meals are included with the all-inclusive resort stay. Sponsor to choose 4 possible travel dates and location of stay at the time of winner selection. Approximate retail value ("ARV") of Grand Prize: $2000. Winner and guest must be 21 years of age or older at the time of entry. Actual value of trip may depend upon winner's point of travel origin and airfare fluctuations at the time of booking. Any difference between stated ARV and actual value of prize will not be awarded except at the sole discretion of Sponsor. 
Travel will take place September 1, 2021 and October 31, 2021 or prize will be forfeited and Sponsor will have no further obligation to winner. If winner is unable or unwilling to travel on the dates specified, the prize will be forfeited and may be awarded to an alternate winner. All travel subject to availability and restrictions. Winner and travel guest must travel on same itinerary. Winner's guest must be 21 years of age or older at the time travel is booked, and guest must return a Companion Affidavit before any ticketing or travel occurs.
Selection of airline, airport, flight itinerary, and hotel and hotel accommodations are within the sole discretion of Sponsor and are subject to capacity controls, availability, blackout dates and other restrictions, all of which are subject to change at Sponsor's sole discretion.  All costs and expenses not specifically listed as included in the Prizes herein are the sole responsibility of the Prize winner(s), including without limitation, transportation, meals, transfers, optional excursions, trip protection coverage, hotel extras, phone and internet service, laundry service, in-room movies, personal items, mini-bar, baggage handling, gratuities, and taxes, if any. Winner will be required to provide a credit card to hotel to cover incidentals that are not included in prize package.  Any and all activities related to use of the Prizes, including, without limitation, any air travel, are at the Prize winner's, and his or her guest's (if applicable), own risk, and subject to whatever restrictions are imposed by the entities that govern such activities. Prize Winner(s) and guests must have all necessary identification required for air travel and the hotel stay and be 21 years of age or older. Once guests are selected, they may not be substituted, except in Sponsor's sole and absolute discretion. Sponsor is not responsible for any cancellation or postponement of the stay or any changes in schedule of any element of the prize or for any expenses incurred as a consequence of hotel or flight cancellation, diversion, substitution or delay or any act or omissions whatsoever by the hotel or airline. Sponsor is not responsible and will have no liability if the winner and/or his/her guest is for any reason not permitted to travel by the relevant airport authorities or misses a flight or other travel element. Resale of tickets is prohibited. Prize Winner(s) and guests are also responsible for obtaining travel insurance (and all other forms of insurance) at their option and hereby acknowledge that Sponsor has not and will not obtain or provide travel insurance or any other form of insurance for them. NEITHER SPONSOR NOR ITS REPRESENTATIVES MAKE ANY WARRANTY, REPRESENTATION OR GUARANTEE, EXPRESS OR IMPLIED, IN FACT OR IN LAW, RELATIVE TO THE USE OF ANY PRIZE, INCLUDING, WITHOUT LIMITATION, QUALITY, MERCHANTABILITY OR FITNESS FOR A PARTICULAR PURPOSE (UNLESS SPONSOR ELECTS TO PROVIDE ANY PRIZE RECIPIENT WITH ANY EXPRESS WRITTEN WARRANTIES). FURTHER, SPONSOR WILL NOT ASSUME ANY ADDITIONAL EXPENSES, OMISSIONS, DELAYS OR ACTS OF ANY GOVERNMENT OR AUTHORITY.  In the event Sponsor is unable to provide any portion of the trip, no compensation or substitution will be provided in lieu thereof; however, remainder of prize package will be awarded and Sponsor will have no further obligation to winner.  The sponsor and venue reserve the right to revoke full or partial prize from any winner or winner's guest who it or venue or festival personnel deem may, in its sole discretion, be intoxicated, be a safety risk, have violated any venue or festival policy or law, or may bring the sponsor or venue into disrepute.
The Grand Prize (as well as any portion thereof) is non-transferable and non-assignable, with no cash redemptions except at Sponsor's sole and absolute discretion.  Sponsor reserves the right to substitute any Prize (or any portion thereof) with one of comparable or greater value at its sole and absolute discretion. All federal, state and local income taxes on the prize are winner's sole responsibility. Winner will be issued an IRS Form 1099 for the value of his/her prize. By accepting the prize, winner waives the right to assert as a cost of winning said prize, any and all costs of redemption or travel to redeem said prize and any and all liability that might arise from redeeming or seeking said prize. Alcohol is not part of any prize. 
WAIVER OF LIABILITY/PUBLICITY RELEASE:  By participating in the Sweepstakes and submitting an entry, you agree to (i) be bound by these Official Rules, including all entry requirements and unconditional agreement that Sponsor's decisions are final and binding in all matters related to the Sweepstakes, and (ii) to indemnify, release, defend and hold harmless the Sponsor and each of their respective parents, affiliated companies, subsidiaries, officers, directors, employees, agents, licensees, distributors, dealers, retailers, printers, representatives and advertising and promotion agencies, and any and all other companies associated with the Sweepstakes, and all of their respective officers, directors, employees, agents and representatives (collectively, "Released Parties") from and against any and all liability for any claims (including but not limited to third-party claims) arising from or relating to loss, harm, damage, injury, cost or expense whatsoever including, without limitation, claims alleging property damage, personal injury (including without limitation emotional distress) and/or death, publicity rights, defamation or invasion of privacy  that may occur, directly or indirectly, in whole or in part, from the participation in the Sweepstakes, including but not limited to, prize winner's Sweepstakes entry; use of prize winner's name, likeness, biographical information, signature, image or likeness;  or from the receipt or use of any Prize (or any portion thereof) or any travel or activity related to the receipt or use of any Prize (or any portion thereof).  By entering this Sweepstakes, you give your express permission to be contacted by the Sponsor by telephone, e-mail and/or postal mail for Sweepstakes purposes.  Each Winner, by acceptance of Prize, grants to Sponsor and each of their respective designees the right to publicize such Winner's name, address (city and state of residence), photograph, voice, statements and/or other likeness and prize information for advertising, promotional, trade and/or any other purpose in any media or format now known or hereafter devised, throughout the world, in perpetuity, without limitation and without further compensation, consideration, permission or notification, unless prohibited by law.
GENERAL CONDITIONS:  Released Parties are not responsible for stolen, late, incomplete, illegible, inaccurate, misdirected, lost, misrouted, scrambled, damaged, delayed, undelivered, mutilated, postage-due or garbled entries, transmissions, e-mail or mail; or for lost, interrupted or unavailable network, cable, satellite, server, Internet Service Provider (ISP), wireless network, website, or other connections including those through and/or by any website, availability or accessibility or miscommunications or failed computer, satellite, telephone, cable or wireless transmissions, lines, or technical failure or jumbled, scrambled, delayed, or misdirected transmissions or computer hardware or software malfunctions, failures or difficulties; any error, omission, interruption, defect or delay in transmission, processing, or communication; non-delivery; misdirected, blocked, or delayed e-mail notifications; printing, typographical or other errors appearing within these Official Rules, in any Sweepstakes-related advertisements or other materials; or any other errors, problems or difficulties of any kind whether human, mechanical, electronic, network, computer, telephone, mail, typographical, printing or otherwise relating to or in connection with the Sweepstakes, including, without limitation, errors or difficulties which may occur in connection with the administration of the Sweepstakes, the processing of entries, the announcement of the Prize or in any Sweepstakes-related materials, or the cancellation or postponement of any event or exhibition.  Released Parties are also not responsible for any incorrect or inaccurate information, whether caused by website users, tampering, hacking, or by any equipment or programming associated with or utilized in the Sweepstakes.  Released Parties are not responsible for injury or damage to participants' or to any other person's computer related to or resulting from participating in this Sweepstakes or downloading materials from or use of the website.  Persons who tamper with or abuse any aspect of the Sweepstakes or website or attempt to undermine the legitimate operation of the Sweepstakes by cheating, deception or other unfair playing practices, or intend to annoy, abuse, threaten or harass any other entrant or any representative of Sponsor or who are in violation of these Official Rules, as solely determined by Sponsor, will be disqualified and all associated entries will be void.  Any attempt to deliberately damage the content or operation of this Sweepstakes is unlawful and subject to legal action by the Sponsor or their respective agents.  Sponsor shall have the sole right to disqualify any entrant for violation of these Official Rules or any applicable laws relating to the Sweepstakes, and to resolve all disputes in its sole discretion.  Released Parties (i) make no warranty, guaranty or representation of any kind concerning any Prize (or any portion thereof), and (ii) disclaim any implied warranty.  Sponsor's failure to enforce any term of these Official Rules shall not constitute a waiver of that provision.
By participating or accepting a prize (if applicable), you agree that: (a) all disputes will be resolved under applicable U.S. laws in the State of Arizona; (b) any and all disputes, claims and causes of action arising out of, or connected with, this Sweepstakes or any prize shall be resolved individually, without resort to any form of class action, and exclusively by the appropriate federal, state or local court located in the State of Arizona; (c) any and all claims, judgments and awards shall be limited to actual out-of-pocket costs incurred, including, but not limited to, costs associated with entering this Sweepstakes, but in no event attorneys' fees; and (d) to the extent allowed by applicable law, under no circumstances will you be permitted to obtain awards for, and you hereby waives all rights to claim punitive, incidental and/or consequential damages and/or any other damages, other than out-of-pocket expenses, and any and all rights to have damages multiplied or otherwise increased. SOME JURISDICTIONS DO NOT ALLOW THE LIMITATIONS OR EXCLUSION OF LIABILITY FOR INCIDENTAL OR CONSEQUENTIAL DAMAGES, SO THE ABOVE MAY NOT APPLY TO YOU.
Sponsor reserves the right, in their sole discretion, to cancel or suspend the Sweepstakes (or any portion thereof) should virus, bugs, unauthorized human intervention, or other causes corrupt administration, security, fairness, integrity or proper operation of the Sweepstakes (or any portion thereof).  In the event of cancellation, Sponsor may elect to identify Winner(s) and award the Prizes by way of random drawing from among all non-suspect, eligible entries received up to the time of such cancellation.
CAUTION: ANY ATTEMPT BY ANY INDIVIDUAL, WHETHER OR NOT AN ENTRANT, TO DELIBERATELY DAMAGE ANY WEBSITE ASSOCIATED WITH THIS SWEEPSTAKES OR UNDERMINE THE CONTENT OR LEGITIMATE OPERATION OF THIS SWEEPSTAKES MAY BE A VIOLATION OF CRIMINAL AND CIVIL LAWS AND SHOULD SUCH AN ATTEMPT BE MADE, SPONSOR WILL DISQUALIFY ANY SUCH ENTRANT, AND SPONSOR AND/OR THEIR RESPECTIVE AGENTS RESERVE THE RIGHT TO SEEK DAMAGES (INCLUDING ATTORNEYS' FEES) AND OTHER REMEDIES FROM ANY PERSON OR PERSONS RESPONSIBLE FOR THE ATTEMPT TO THE FULLEST EXTENT PERMITTED BY LAW.
Entries generated by a script, macro or other mechanical or automated means will be disqualified.  In the event of dispute as to the identity or eligibility of any potential Winner based on an e-mail address, the winning entry will be declared made by the "Authorized Account Holder" of the e-mail address submitted at the time of entry provided he/she is eligible according to these Official Rules.  The "Authorized Account Holder" is defined as the natural person to whom the applicable Internet service provider or other organization (such as a business or educational institution) has assigned the e-mail address for the domain associated with the submitted e-mail address.
Privacy and Text Information. Claimants will be contacted using the phone number provided during the Promotion Period. Email addresses may be stored if supplied, and claimants may receive email correspondence from, or on behalf of Sponsor, subject to Sponsor's privacy policy. Sponsor uses commercially reasonable efforts to comply with Federal CAN-SPAM guidelines, and claimants may subsequently opt-out of receiving further emails by following the opt-out instructions contained in the email. Please refer to Sponsor's privacy policy located at https://macayo.com/privacy-policy/
Completion of entry authorizes Macayo's Mexican Restaurants to add you to the Macayo's VIP E-Club where you will receive exclusive offers, discounts and Macayo News before anyone else.
If you provided your mobile number during the promotion period and agreed to the terms listed, you are authorizing Sponsor to deliver automated SMS messages to you about the Sweepstakes. You are not required to provide a number as a condition of purchasing any item or receiving any offers. Standard message rates may apply. You may opt out of receiving future text messages by replying STOP to any message you receive (this will generate a confirmation message noting we have received your request). If you chose not to receive automated SMS messages to your mobile device, you will receive the same notifications via mail or via email through an automated email system. Sponsor and its agents are not responsible for text message entries not received due to lost, failed, delayed or interrupted connections or miscommunications, or to other electronic malfunctions, delays, or errors of any kind in the transmission or receipt of such entries. Sponsor is not responsible for incorrect or inaccurate entry information, whether caused by any human or technological error that may occur in the processing of entries. Any other attempted form of entry not specified herein is prohibited; no automatic, programmed, robotic or similar means of entry are permitted. Network service for transmission of text messages/entries may be interrupted or unavailable due to atmospheric or topographical conditions, governmental regulations or orders, or system capacity limitations. Sponsor assumes no responsibility for message/entry delivery or timeliness of messages/entries, or for the availability of messaging or general phone services at all times.
WINNERS' LIST:  For a Winner List (available after November 30, 2021), mail a request and self-addressed stamped envelope to: Beverage Promotions, Attention: Trip to Mexico Sweeps, 20280 N. 59th Ave #115-550, Glendale, AZ 85308.  Winner's list requests must be received by November 15, 2021. Do not send any other correspondence or prize claims to this box.
1800® and other associated trademarks and logos are owned in the United States by Agavera Camichines, S.A. de C.V., Jalisco, Mexico. Copyright © 2021. All rights reserved. Imported by Proximo Spirits, Inc., Jersey City, NJ. Please drink responsibly.